---
---
On Promotion (While Stocks Last) – SAVE R20 500
2 Years of Free Software
Normally, Autel provides 1 year free updates to all their dealers in other countries…

 2 years for FREE (only to clients located in Africa)
1 year of software updates is $895 (i.e R17 500 for free!)
Free Gift
Autel MaxiVideo Inspection Camera MV108 – Videoscope / Borescope (For Laptop or Maxisys)

Goods valued at R1995.00
Autel Maxisys MS919
Industry-leading digital intelligent diagnostic equipment

Comprehensive hardware & software

Intelligent, accurate & easy-to-use
---
The great news is that the MS919 represents excellent value for money, retaining all the software and VCMI features of the Ultra
The MS919 combines diagnostics, service, extensive live data, channel coding, and ECU reflashing The MS919 has our MaxiFLASH VCMI with a built-in Oscilloscope, Multimeter, Signal Generator, and OBD Bus Check Functions, and connects to the Ultra using WiFi, so greatly increasing the communication speeds. The all-new VCMI also has Enhanced Protocol Compatability and supports D-PDU, RP1210, CANFD. J2534 and DoIP protocols.
The MS919 has all new software specialist capabilities that we have named Repair Assist, DTC Analysis, Topology Mapping, and Relevant Cases.



Main Features
Read fault codes & provides a description
Clear fault codes & warning lights (e.g. airbag, ABS, engine light etc)
Service functions – interval light / oil reset light / EPB / injectors etc
Access to live data streams (oxygen sensor rich/lean indication, coolant temperature, mass air flow etc)
Actuation / Component testing(activate specific systems to test working condition)
Coding (Injectors, spare keys, radios and even starters are now coming out 'coded'. This function is indispensable if you need to change those vehicle parts)
Flashing / Reprogramming (updating ECU's, changing parameters or parts, J2534 pass-through flashing capabilities)
---
New Features
The new Autel MaxiSys series takes diagnostics to another level… This machine cannot be compared to a standard diagnostic scanner, this new range is now one of the worlds most comprehensive guided diagnostic solution.
Read further down for more detailed info and/or read the quick start guide
The new five-in-one vehicle communication device
New MaxiFLASH VCI protocols

Can-Bus Check

Oscilloscope

Multimeter

Waveform Generator

Remote Programming

Faster diagnosis with Wifi 
Intelligent Diagnostics
Technical Service Bulletins

Repair Assist

Component Measurement

Relevant Cases
Topology Module Mapping (CAN BUS Tree)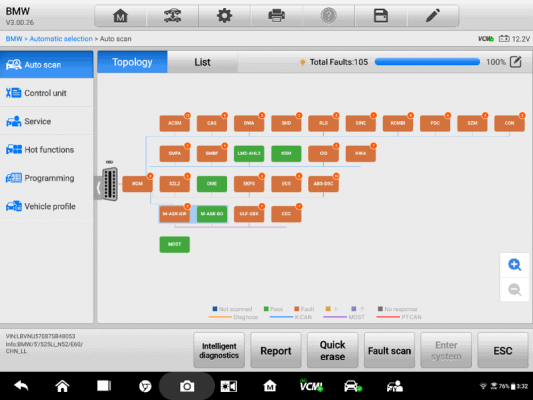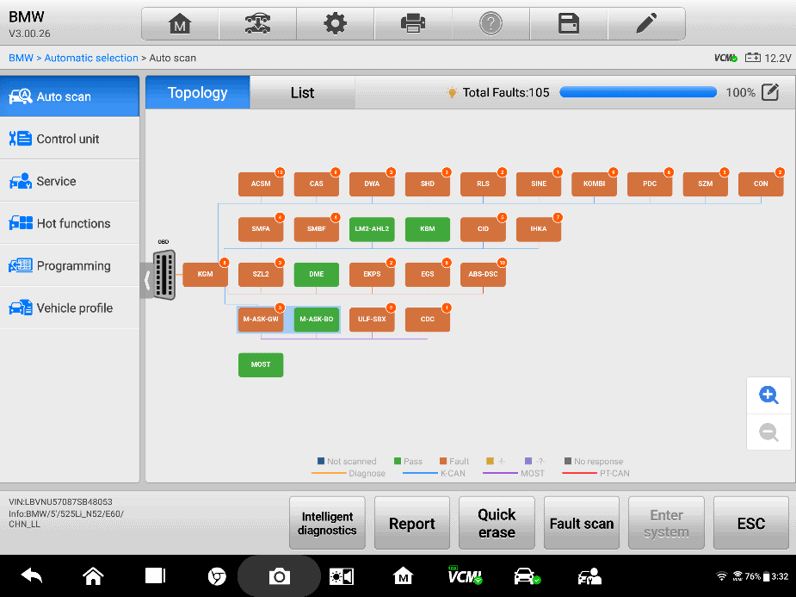 ---
Additional Info
Autel updates provide latest OE level coverage for more than 80 US Domestic, Asian and European vehicles, including supercar

Exceptional OE-Level functionality from comprehensive OBDII diagnostics & services to advanced ECU coding and programming

Automatic system and software updates with real-time push message notifications via the internet

Interactive Data Logging sessions enable direct contact with Autel Support for first-hand troubleshooting of diagnostic bugs and errors

One-stop multitasking designed for ideal management of workshop operations to keep all data files, customer info, and vehicle records well organized

Cloud-based Data Manager saves customer and vehicle records, scanner data and technician notes
---
Why Buy from Garage & Tool Supplies?
As an official online dealer for Autel products throughout Africa
You will get

 

2 year free updates 

Please be aware that Autel has IP blocks for grey imported units, they will not work locally!
If you do import one, as soon as you register it, the device will be locked (and the Chinese sellers will not & cannot help you)
Machines from other markets have different software tailored to their market.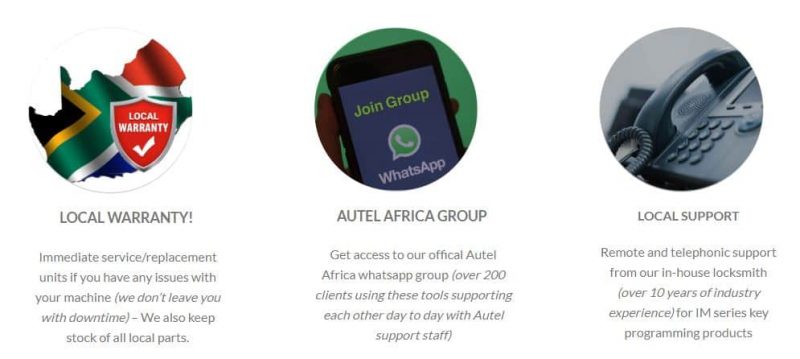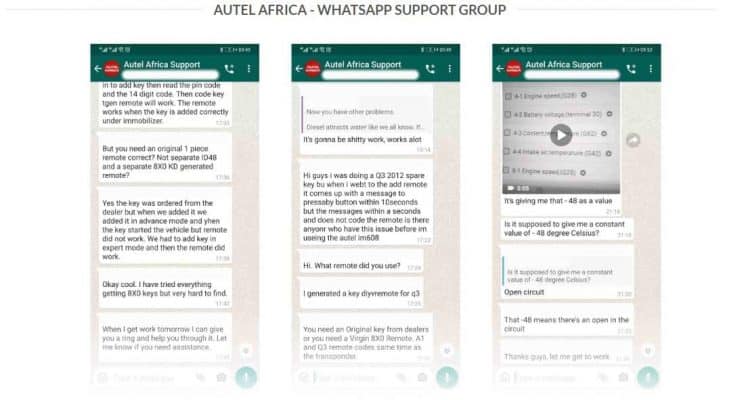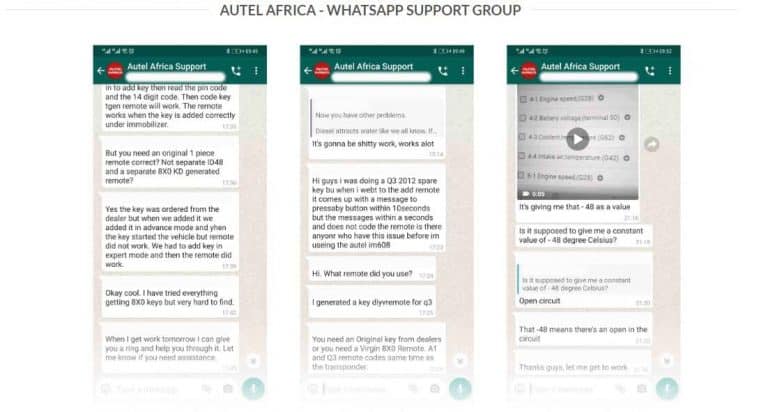 What's New?
The New Autel MaxiSys MS919 vs Previous Autel Maxisys vs Other Diagnostic Scanners:
The older Autel MaxiSys series (MS908S Pro & Elite) and other diagnostic scanners in the market will not have these functions. Autel has been working on this new series for the past 2-years and are far ahead of the rest when it comes to comprehensive diagnostic solutions…
1.) The new five-in-one vehicle communication device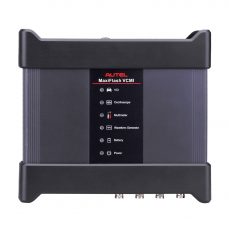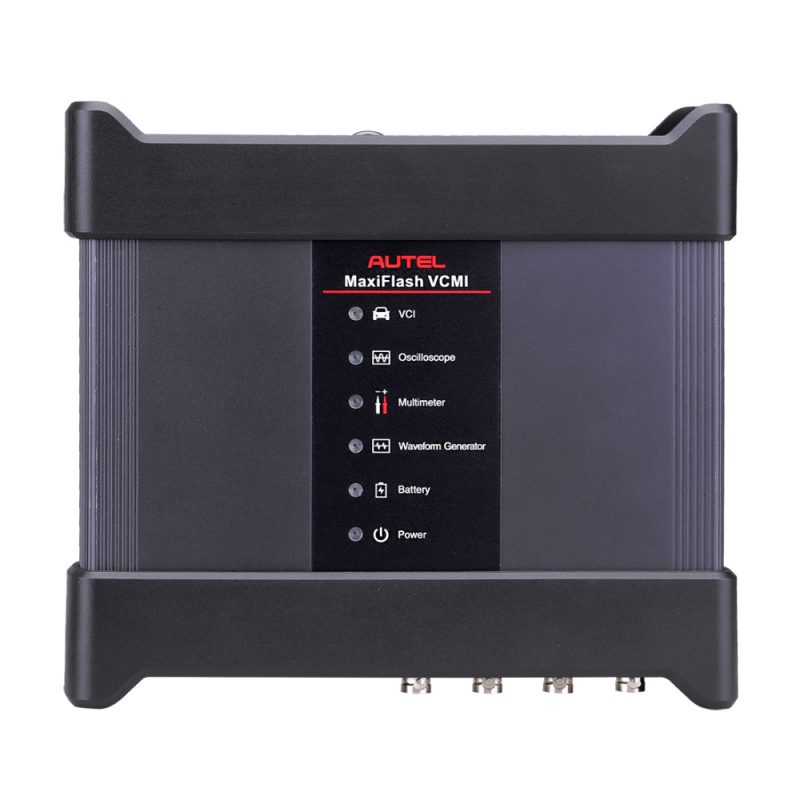 (only available on the Ultra & 919)
---
*New MaxiFLASH VCI protocols*
D-PDU, J2534, RP1210, DoIP and CAN FD

CAN-FD is 14x faster than regular CAN
---
*Can-Bus Check*
Quickly determine whether the OBD pins are functioning properly.

---
*Oscilloscope*
Quickly locate and solve problems, making the use of oscilloscope easy.

View and analyze waveforms by sampling the signals of vehicle sensors and actuators.

Provides a large number of cloud preset cases, including wiring diagrams, waveform library, reference waveforms and fault cause analysis.

Support DLC channel waveform detection, and directly use OBD interface to measure various protocol waveforms;

20MHz bandwidth, maximum 80MS/s sampling for more accuracy;

Integrated with intelligent diagnostics function to help analyze and solve various problems

---
*Waveform Generator*
The Waveform Generator is used to test a sensor, an actuator, or an ECU without the need to replace them one by one to identify the fault. This is done by simulating signals of various sensors and ECUs, identifying hardware issues.

Simulates sensor signals to quickly diagnose ECU, sensor, and wiring harness issues;

Simulates ECU signals to perform active tests to verify functions of certain parts (Electronic fan, solenoid valves etc);

Simulates actuator signals and verifies the communication status between the actuator and ECU (Electronic fan, solenoid valve, headlight)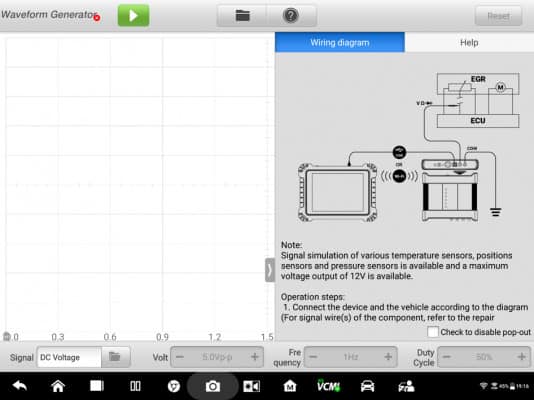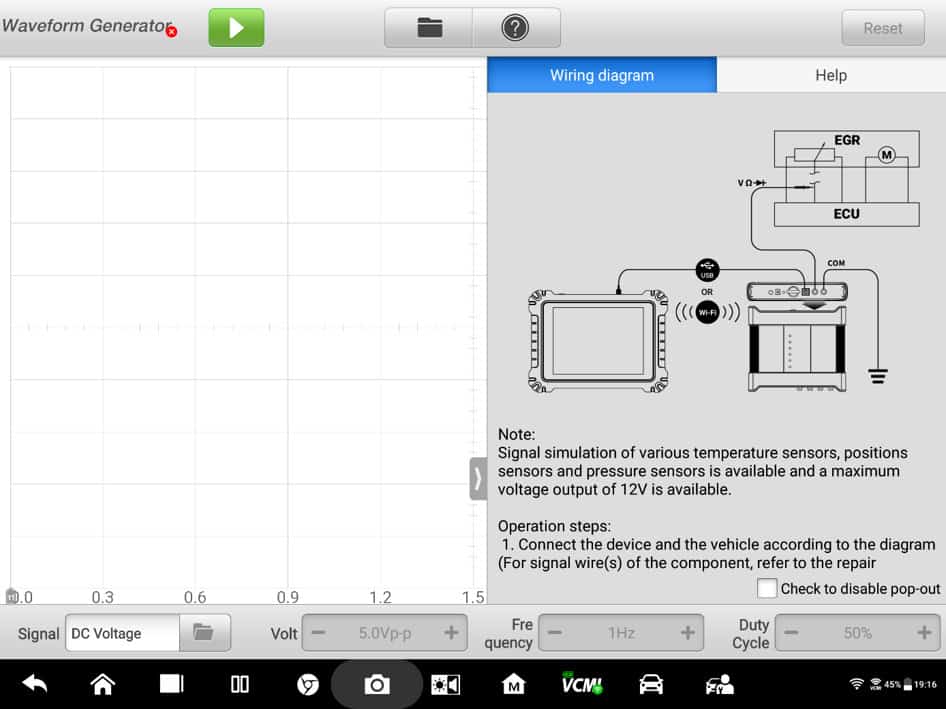 ---
*Multimeter*
The professional Multimeter will measure Voltage, Current, Resistance, Diode, Frequency/Period, Duty Cycle, Connectivity and Pulse Width.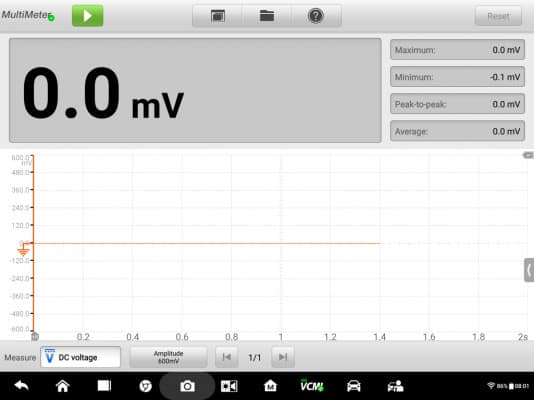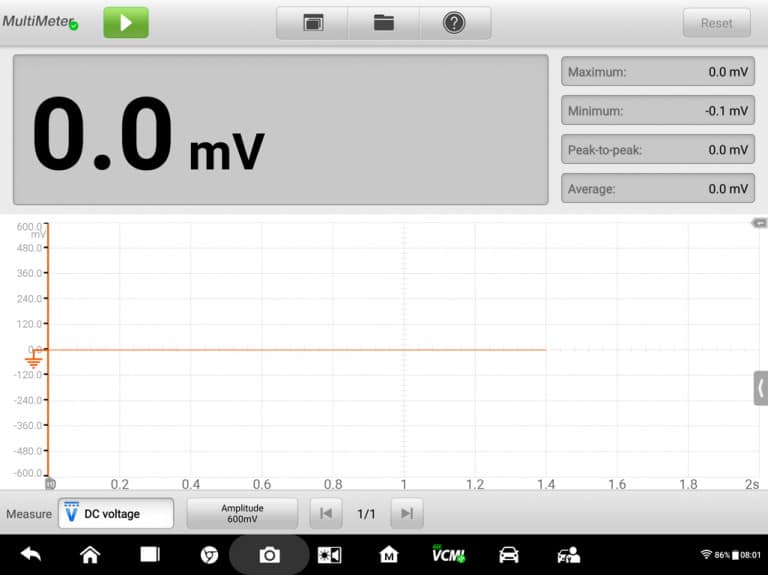 ---
*Remote Programming*
Only applicable to GM vehicles currently, others to be supported in future.
*VCI is connected by WIFI*
Bigger VCI range of 50 meters and a 30% increase in diagnosis speed compared to Bluetooth VCI's
---
2.) Intelligent Diagnostics
---
*Technical Service Bulletin*
See official announcements issued by vehicle manufacturers regarding common problems including vehicle modules, DTCs, repair methods, program updates and recall strategies.

Currently available on Ford, GM, FCA, Toyota, Lexus, VW, Nissan, Honda, BMW, Mercedes, Audi, Hyundai, Kia.

---
*Repair Assist*
Displays a list of recommended tests, the completion status and priority for the undertaking (the higher the priority, the earlier the components should be tested).

An integrated troubleshooting process organised into the operation steps, that guide the user to solve the maintenance problems.

Automatically match the circuit diagram and pin position required for the fault.

Currently available on BMW, JLR, GM, Ford, Chrysler and Porsche.

---
*DTC Analysis*
Describes the possible causes and solutions to the fault

Currently available on GM, Ford, Toyota, Lexus, Nissan, Honda, VW, Audi, BMW, FCA, Mercedes.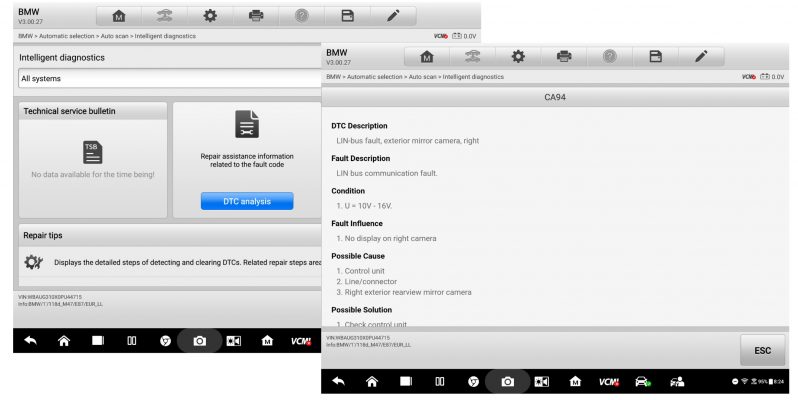 ---
*Repair Tips*
Provides detailed repair procedures, presented in texts or videos.
*Component Measurement*
Recommends code-related cases and directs technicians to Oscilloscope in one click. (only available on the Ultra & 919)

The oscilloscope page displays relevant wiring diagrams, standard waveform analysis and detailed notation
*Relevant Cases* 
The software automatically recommends repair processes that may be relevant to the vehicle and fault. These repair cases/suggestions provide the technician with great insight when diagnosing and repairing vehicle faults.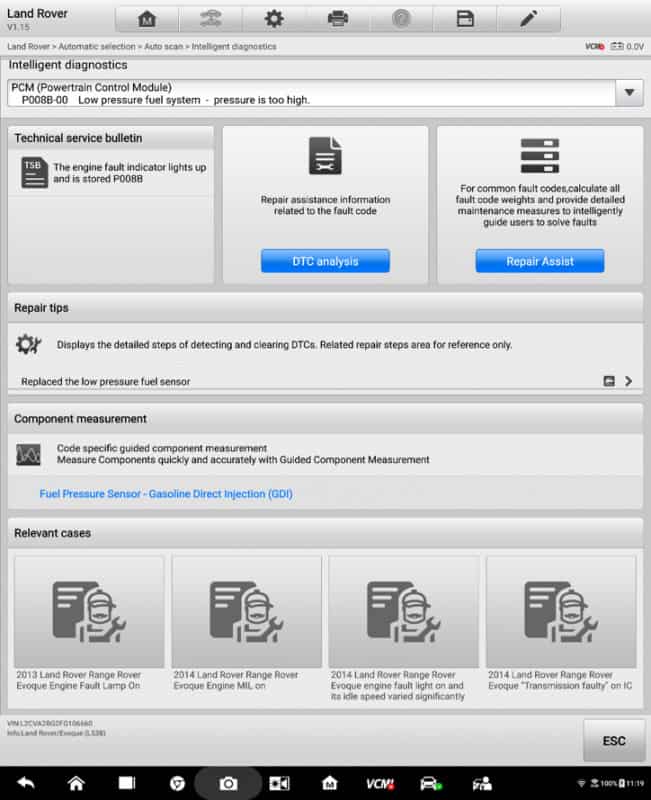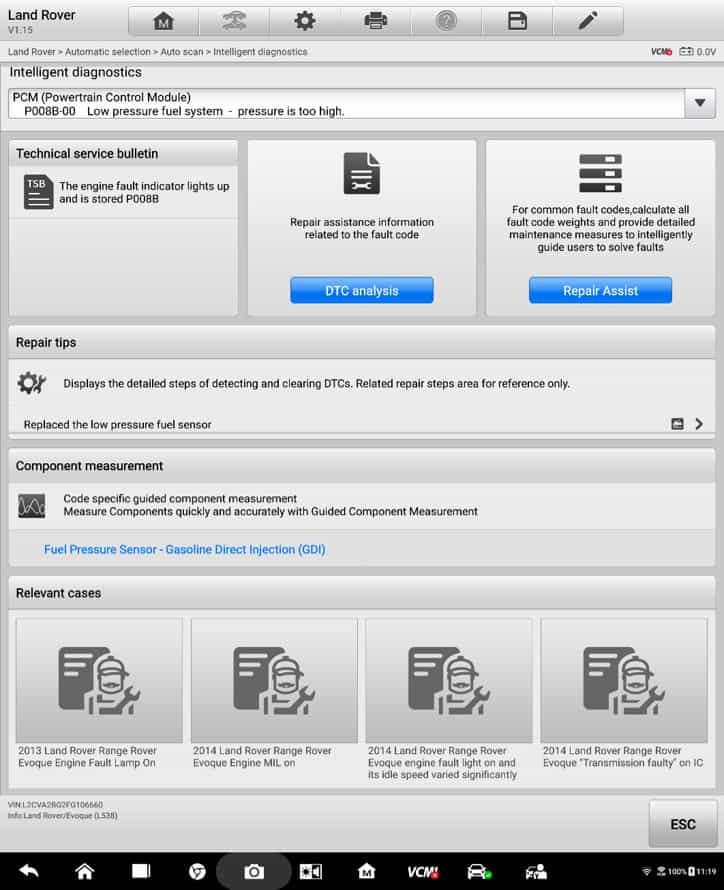 ---
3.) Topology Module Mapping (CAN BUS Tree)
---
With our Autel exclusive System Topology Software, the technician can see a colour coded topology display for all vehicle systems and their status on one page!

The display shows the structure of communication between modules and gives the ability to press on a system module to display any DTC's and access the system.

Currently available on BMW, Ford, Volkswagen, Audi, GM, Ford, Chrysler, Nissan, Honda, Toyota Lexus, Jaguar, Land Rover, Mercedes Benz, Hyundai, Kia, Volvo.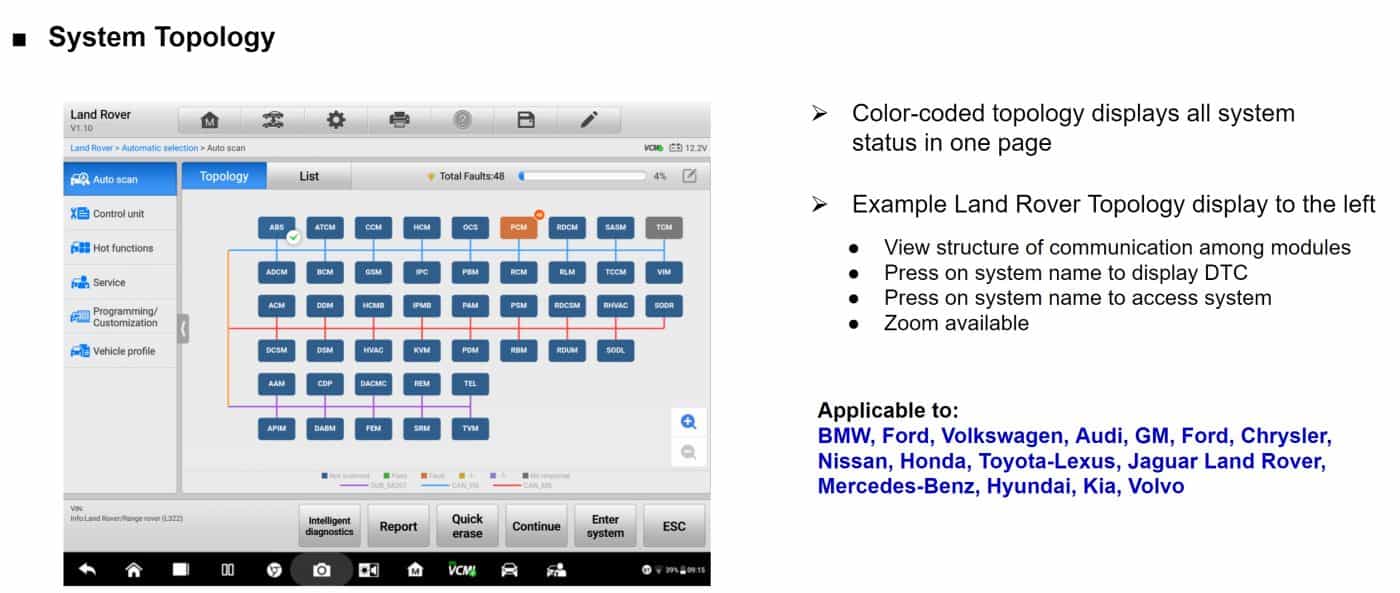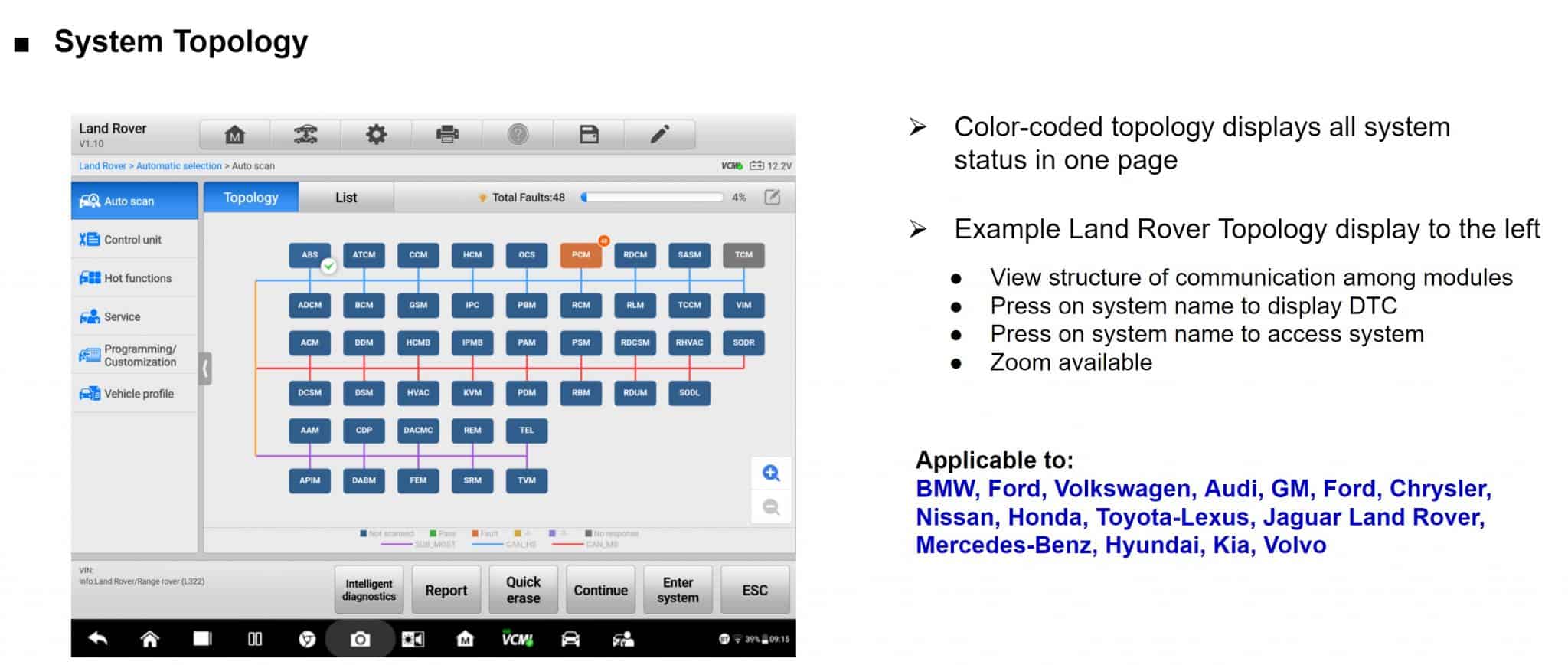 ---
4.) Better Hardware & Performance
---
Much Faster (Better Memory, CPU and android operation system etc) with longer battery life and larger screen – See the full specifications below.
---
Optional Extras:
This unit does not include early OBD-II adapters (these can be bought separately here if needed!
The Ultra can be upgraded to operate our ADAS products.
Our additional Oscilloscope Accessory Kit can be purchased separately and includes the further items of 1 x 65Amp Current Clamp, 1 x 650Amp Current Clamp, 1 x Coil On Plug Probe, 2 x HT Extension Leads and 2 x Battery Clips.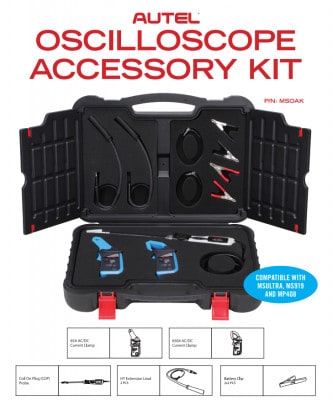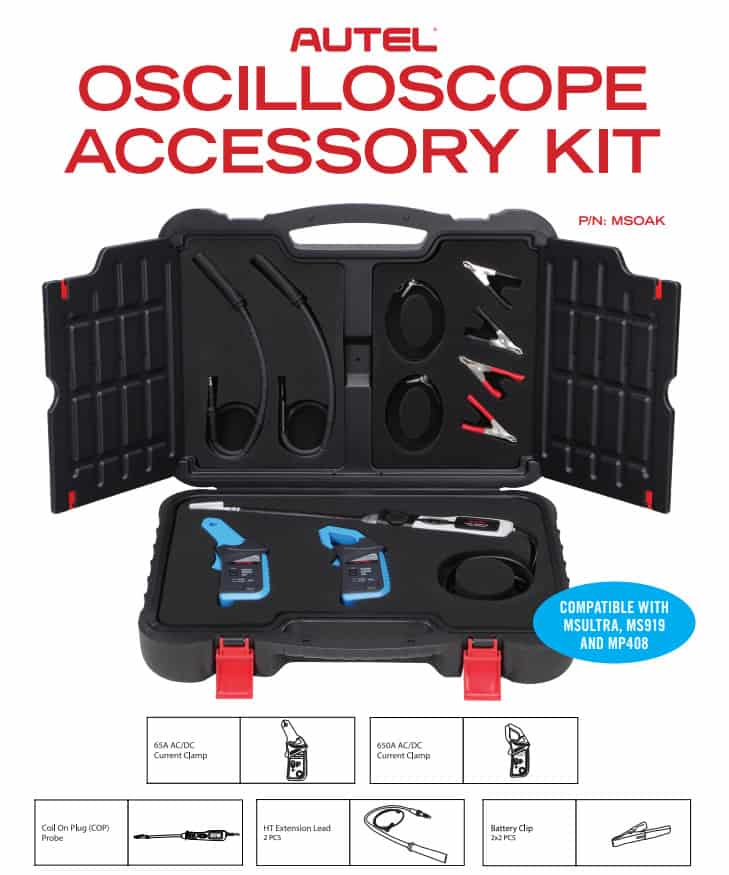 ---
Specifications:
Specifications
OS
Android 7.0
Processor
Samsung Exynos8895V octa-core Processor (2.3GHz Quad-core Mongoose + 1.7GHz Quad-core A53)
Memory
4GB RAM & 256GB On-board Memory
Display
9.7 inch TFT-LCD with 1536 x 2048 resolution & capacitive touchscreen
Connectivity
WiFix2 (802.11 a/b/g/n/ac 2×2 MIMO)
BT v.2.1 + EDR
GPS
USB 2.0 (Two USB HOST Type A, one USB mini device)
HDMI 2.0
SD Card (Support up to 256GB)
Camera
Rear: 16 Megapixel, Autofocus with Flashlight
Front: 5 Megapixel
Sensors
Gravity Accelerometer, Ambient Light Sensor (ALS)
Audio Input/Output
Microphone
Dual Speakers
3-Band 3.5 mm stereo/standard headset jack
Power and Battery
15000mAh 3.8 V lithium-polymer battery
Charging via 12 V AC/DC power supply with the temperature between 0°C and 45°C
Input Voltage
12V/3A Adapter
Operating Temp.
0 to 50°C (32 to 122°F)
Storage Temperature
-20 to 60°C (-4 to 140°F)
Dimensions (WxHxD)
304.4 mm (11.98″) x 227.8 mm (8.97″) x 42.5 mm (1.67″)
Weight
1.66kg (3.66lbs)
Protocols
DoIP, PLC J2497, ISO-15765, SAE-J1939, ISO-14229 UDS, SAE-J2411 Single Wire Can (GMLAN), ISO-11898-2, ISO-11898-3, SAE-J2819 (TP20), TP16, ISO-9141, ISO-14230, SAE-J2610 (Chrysler SCI), UART Echo Byte, SAE-J2809 (Honda Diag-H), SAE-J2740 (GM ALDL), SAE-J1567 (CCD BUS), Ford UBP, Nissan DDL UART with Clock, BMW DS2, BMW DS1, SAE J2819 (VAG KW81), KW82, SAE J1708, SAE-J1850 PWM (Ford SCP), SAE-J1850 VPW (GM Class2)
---